The Data Detectives Game* (located on the SCS Simulation Lab island in the Tulane SCS Metaverse) is focused on the critical thinking skills needed to reason about the world and/or a particular environment. Using a museum-like movement path floor plan in a virtual world, students first encounter an ice breaker reception area, a critical thinking skills bench-marking station, and different interactive tutorial stations.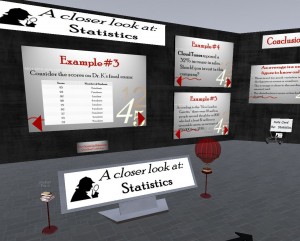 [Above] Critical Skill Tutorial Station Example
The skills taught in the tutorial stations include how to evaluate data, graphs, comparisons, generalizations, and cause and effect. Next, students/players apply the critical thinking skills gleaned to a case study game set in a fictional city (New London).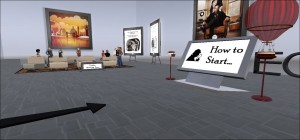 [Above] Museum-Inspired Guided Path Through the Tutorials Surrounding the Game Board
The object of the game is to evaluate whether the fictional New London would make a good city to launch a new product. Players are given what is known about the demographics and doing business in New London and are charged with verifying the accuracy of the information and evaluating what is discovered against a set of optimal parameters.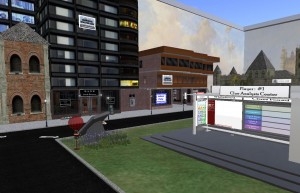 [Above] New London Courthouse and Bank
The use of a multi-player "Clue Analysis Center" (see the image below) provides a means for "mapping" the clues found, with the additional features of a shared whiteboard, calculator, and findings scoreboard. As each clue is found, the relevant clue information block is rezzed in the player's clue analysis cubicle.
[Above] Clue Analysis Center Station – A Key to Teaching Critical Thinking Skills
Also, the instructor station (in a hot air balloon above the 3D virtual world game board — see the image below), allows real-time monitoring of each player/team by duplicating the additions to each clue analysis center display.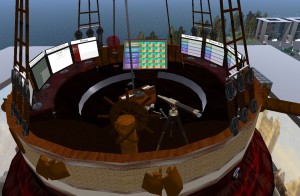 [Above] Instructor Monitoring Center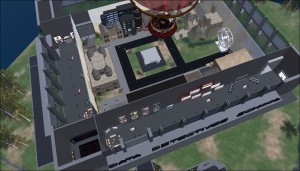 [Above] Aerial View of the Perimeter Tutorials & "New London" City Game Board
Finally, after the game is complete, players exit the game space into a hall that includes a wrap-up discussion area, a post-game critical thinking skills assessment center, and extra student enrichment materials.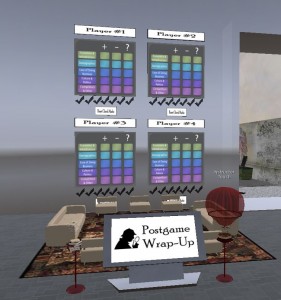 [Above] Post Game Wrap-Up Lounge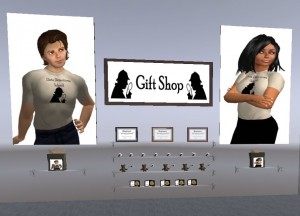 [Above] Freebie Gift Shop for Players
*Kay McLennan's Data Detectives Game was a finalist (3rd place) in the
U. S. Army's 2013 Federal Virtual Challenge (formerly the Federal Virtual Worlds Challenge)