The Tulane SCS Metaverse is a 3D virtual world created by Kay McLennan (Senior Professor of Practice at Tulane's School of Continuing Studies). More specifically, the Tulane SCS Metaverse features different course-specific educational simulations and e-teaching meeting spaces as well as loaner spaces, buildings, and [give-away] tools/resources (for students and faculty).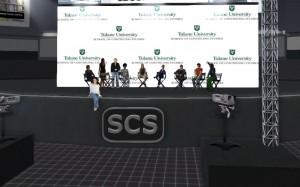 [Above] SCS Auditorium Stage
Practice Sandbox – Including Loaner Classroom, Gallery, and Office Spaces
The SCS Sandbox island in the Tulane SCS Metaverse includes practice space (for student and faculty use) as well as loaner buildings (for use/practice arranging classroom, gallery, and/or office spaces).

[Above] Sample Loaner Buildings
In addition, students and faculty can take copies of any/all of the educator resource items/tools plus the furniture in the box outside of each building.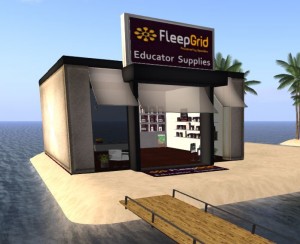 [Above] Educator Resources Store on the SCS Sandbox Island
To access the loaner spaces, after you login to the Tulane SCS Metaverse, open the world map, search for SCS Sandbox (in the text box on the map), and click on the "Teleport" button on the map.
When you arrive on the SCS Sandbox island, select the building you want to use as practice space by clicking on the mailbox outside of the building (IF the flag on the mailbox is green). Once a building is in use, the flag on the mailbox outside of the building will turn red (and "register" the name of the avatar that is borrowing the space).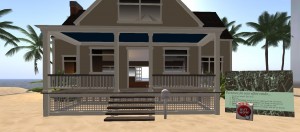 [Above] View of the First-Come-First-Serve Mailbox Reservation System and Box of [Freebie] Furniture and Tools